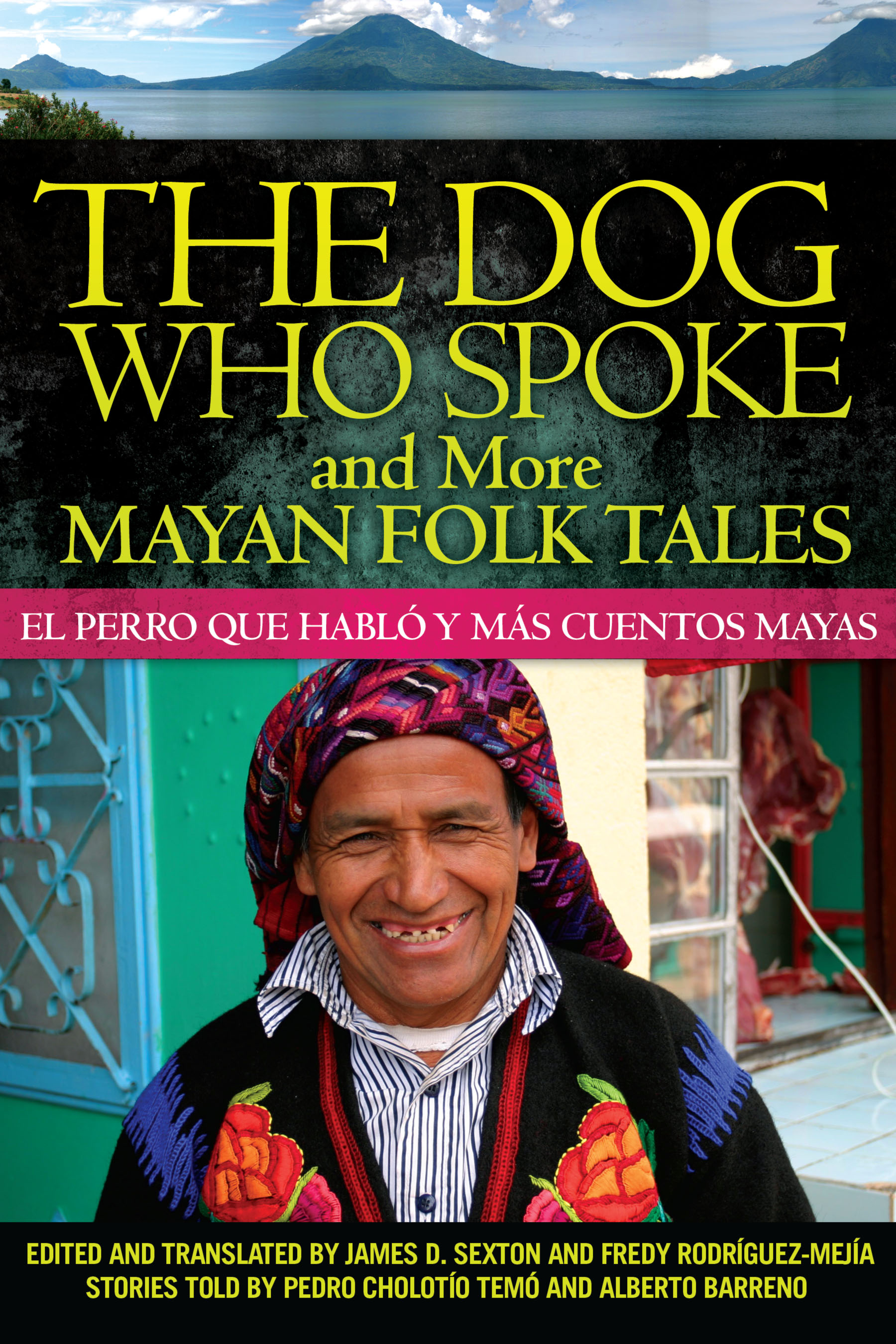 The Dog Who Spoke and More Mayan Folktales
El perro que habló y más cuentos mayas
University of Oklahoma Press
Published October 2010
---
Book Description
This is a bilingual book in English and Spanish of thirty-two unpublished folktales from San Juan la Laguna and Panajachel, Sololá, Guatemala, collected by myself, James D. Sexton, a cultural anthropologist, over a twenty-one year period. The story tellers are Pedro Cholotío Temó, a Tz'utujil Maya who lives in San Juan and Alberto Barreno, a half-Kaqchikel Maya who lives in Panajachel. Fredy Rodríguez-Mejía, a part Ch'orti' Maya from Copán Ruinas, Honduras, and doctoral student in anthropology at Michigan State University, and I are the translators and editors. Also, I wrote an introduction that places the stories in their cultural context. These enchanting tales include talking dogs, donkeys, crickets, jaguars, and parrots. In these stories also appear witches, characoteles, cadejos, duendes, magical objects, sacred caves, transforming supernatural animals and humans, and legendary Mayan heroines and heroes. These highly entertaining stories reinforce cultural values, instruct readers in proper deportment, and reflect the Mayan culture in which they are told. Because none of the stories is risqué, they are all suitable for readers of all ages.
Newspaper Articles
"NAU Professor Has New Book of Mayan Folktales" Associated Press, USA Today, 31 December 2010.
"Up Close: A Walk Through Mayan Culture" by Betsey Bruner, Arizona Daily Sun, Monday, 27 December 2010.
"Q&A with Dr. James Sexton" by Trevor Gould, JackCentral, 23 November 2010. (To find this article use the "search" function on JackCentral's A&E hyperlink.)
Excerpted from The Dog Who Spoke and More Mayan Folktales / El perro que habló y más cuentos mayas, edited and translated by James D. Sexton and Fredy Rodríguez-Mejía, stories told by Pedro Cholotío Temó and Alberto Barreno. Copyright © 2010. All rights reserved.
The Dog Who Spoke [which is the English title of the first folktale in the book]
Long ago, they say there lived an old couple of the raza [ethnic group] Kaqchikel in Sololá.1 During their lives, they had no children; it was just the two of them. Life, they passed it sad. The couple owned sitios [homesites] and lands because the man's parents were rich. As time passed, they grew old. The old woman could barely grind the nixtamal [corn cooked in lime or ash water] for the tortillas. This also happened with the old man, who could barely prepare the firewood to cook food. Everything that happened to the old couple was an affliction.
In time, they died, and they were buried in the sitio. They did not sell the sitios or the lands before dying. When the old couple died, people took advantage and took possession of their sitios and the lands. Well, the people built their ranchos [rural shacks, generally made of cane or poles with palm-leaf roofs], and they lived on those sitios without any fear because the owners were now dead. The people were happy, living on the sitios of the old people.
After five years, they say, the problem came. Suddenly, clay pots and pitchers moved around during the night. The beds moved as if somebody were blowing on the fire. The ranchitos [small ranchos] were no longer peaceful.
One time, it is said that the owners of the house were eating dinner at nine o'clock sharp at night. In the past, there was no electricity; ocote [resinous pine] is what they used to provide light inside the house. Just then, while they were eating, suddenly an arm stuck out from under the bed, similar to a person's arm but hairy. In other words, it was a shaggy arm, and it vanished at the top of the door. The people who were eating got scared and could not sleep in peace anymore.
Because the sitio was large, the following day they changed the place of the ranchito. But they say that there was still no peace. It seemed as if someone were walking through the sitio at night--they heard strange things.
It is said that the owners of the house went to a zajorín [corruption of zahorí: indigenous witch who usually acts also as a curer or shaman] to find out what was happening to them. The zajorín told them, "They are evil spirits, but with a secreto [magical ritual or object] everything will disappear." They performed the secreto as the shaman had told them, but it was of no use.
After a few days, they heard [noises] as if people were sweeping the sitio at night. The owners of the house bought a dog so that it could guard it at night. So it was. They bought the dog, but this complicated the situation because the dog did not let them sleep at night. It barked and barked as if [there were] something the animal was seeing. The owners of the house could not sleep because of their fright and the barking of the chucho [dog].
One night, the man, tired of the racket, could stand it no longer, and he gave a good beating to the unfortunate dog. The animal, they say, was between life and death. At dusk of the following day, the man approached the dog to give it some tortillas. But the dog could not eat because of the blows it had suffered.
Suddenly, they say, the dog spoke to its master, telling him, "My master, I am going to die. I cannot eat anymore because of the blows that you gave me. I am not to blame. During the night when I bark and bark, it's because I am seeing something. I cannot sleep because a man and a woman appear to me. The two are old. They are the ones who do not let me sleep," the dog said to its master. Besides, he told him, "You had no mercy for me, so now I am dying.
They say the owner collapsed to the floor in fear, without saying a word, because the dog had spoken to him. He trembled in fear and could not stand up. The dog got up and said to its master, "Now you will take my place and you will realize everything that happens during the night." With one of its paws, the canine grabbed its owner and rubbed his eyes and told him that he would be a dog-man. At that moment the dog died.
When the man plucked up his courage, little by little he got up and went to tell his family all that had happened to him. But everything looked strange. His wife, they say, looked like a shadow [ghost]. His bed looked like a basket where dogs sleep.
At bedtime, they say, the man could no longer sleep as we people do. He went to bed as the dogs go to bed, and he no longer wanted to sleep with his wife. Every so often he would get up from bed and go outdoors. When the neighbor's dogs barked, the dog-man ran outside too. Sometimes he would stay in the porch as dogs do.
One night, when the neighbor's dogs began to bark, they say the dog-man also went running outside to see what was happening. Because his eyebrows and eyelashes now looked like those of a dog, they say that now he could see what dogs saw at night.
Well, they say that the dog-man crossed through a peach orchard and suddenly an old couple appeared, a man and a woman. Both were talking, saying, "The sitio is very dirty and has a lot of trash." So they began to sweep the sitio until midnight. It was the spirit of those who were owners of the sitio. The dog-man was seeing all these things; that is, the things that dogs see when they bark in the night.
When the old couple finished sweeping the sitio, they spoke to one another, saying, "The day after tomorrow we will come back to sweep our sitio again. Now we will go to another sitio. It must be very dirty. We are going to sweep it."
They went out into the street and disappeared. The dogs began to bark more and more. The dog-man, they say, wanted to bark, too, but could not do as the dogs do. Crying, he went inside to wake up his family and tell them what dogs see during the night.
This gentleman reasoned like a man but saw like an animal at night, because he told his family what he saw when dogs barked. But the man no longer was normal. Little by little he lost weight because he could no longer eat as we eat, nor could he sleep at night.
This happened because of hitting the dog that was guarding the house until it died. So, when dogs bark a lot, they are seeing something strange. One must be careful. You must not go outdoors or hit dogs, so the same thing does not happen to you that happened to the dog-man.
1. In this and other stories, Maya Indian storytellers typically sprinkle the text with self-exonerating expressions such as "so they say" and "it is said," which help the storyteller avoid having his own veracity questioned (Shaw 1971:10-11). As Allan F. Burns (1983:27) points out for folktales of the Yucatec Maya, these constructions also alert the listener or reader that the narratives imparted are part of the oral tradition rather personal anecdotes.
For different versions of a Yucatec Mayan story in which a female dog sings to her mistress's baby as it takes care of it, see Margaret Park Redfield (1937:24) and Mary H Preuss (2005:17). In Redfield's version, the dog is a foul-mouthed female who resents her mistress's neglect, but In Preuss's version the dog is an obedient male who causes the woman to drop her jug of water and form an enchanted lake.
_____
Story by Santiago Cuc, a Kaqchikel of Sololá, seventy-nine years of age. He is the farther-in-law of Pedro Cholotío Temó's daughter who is a teacher. Don Santiago told the story to Pedro, who wrote it down in Spanish and mailed it to me (Sexton) in the year 2000.
El perro que habló [que es el título del primer cuento en español]
[As I say in the introduction, we used the U.S. convention of using quotation marks, which a number of Spanish publications have adopted.]
Hace mucho tiempo dicen que vivía en Sololá una pareja de viejitos de raza [group étnico] kakchiquel.1 Durante sus vidas no tuvieron hijos; solamente eran ellos dos. La vida la pasaban triste. La pareja era dueña de sitios y terrenos porque los pades del señor eran ricos. Conforme pasó el tiempo, ellos envejecieron. La viejita apenas podía moler el nixtamal para las tortillas. Así también pasó con el señor, quien apenas podía hacer la leña para cocer los alimentos. Todo lo que pasaban los viejitos era un sufrimiento.
Con tiempo, se murieron, y fueron enterrados en el sitio. No dejaron vendidos los sitios ni los terrenos ante de morir. Cuando los viejitos se murieron, la gente se aprovechó y se apoderó de los sitios y de los terrenos. Pues, la gente hizo sus ranchos [cabañas ruales pequeñas, generalmente hechas con cañas o varas, y con techo de palma], y vivieron en esos sitios sin ningún temor porque los dueños ya habían muerto. La gente quedó feliz, viviendo en los sitos de los viejitos.
Después de cinco años, dicen que vino el problema. De repente, se movían las ollas y los jarros de barro por las noches. Se movían las camas, como que [si] alguien estaba [estuviera] soplando el fuego. Ya no había tranquilidad en los ranchitos [pequeños ranchos].
Una vez, se dice que los dueños de la casa estaban comiendo la cena, a las nueve de la noche en punto. Antes, no había luz; ocote es lo que usaban para dar luz dentro de la casa. En eso, cuando estaban comiendo, de reprente salió debajo de la cama un brazo parecido al brazo de una persona pero con pelos. En otras palabras, era un bazo velludo, y se desapareció a la altura de la puerta. Las personas que estaban comiendo se asustaron, y ya no pudieron dormir tranquilos.
Debido a que el sitio era grande, al día siguiente le cambiaron lugar al [del] ranchito. Pero dicen que no había tranquilidad. Parecía como si alguna persona aduviera en el sitio por las noches--oían cosas extrañas.
Se dice que los dueños de la casa se fueron con un zajorín [corrupción de "zahorí": brujo indígena que suele actuar tambíen como curandero] para averiguar lo que estaba pasando con ellos. El zajorín les dijo, "Son malos espíritus, pero con un secreto [rito u objeto mágico] todo se desaparecerá." Hicieron el secreto que les había dicho el zajorín, pero no sirvió para nada.
A los pocos días, oían [sonidos] como si [algunas] personas estaban [estuvieran] barriendo por las noches en el sitio. Los dueños de la casa compraron un perro para que cuidara por las noches. Así fue. Comparon el perro, pero se complicó la situación porque el perro no los dejaba dormir por las noches. Ladraba y ladraba como si [hubiera] algo que miraba el animal. Los dueños de la casa no podían dormir por los sustos y los ladridos del chucho [perro].
Una noche, el hombre, cansado de la bulla, ya no podía soportarlo, y le dio una buena paliza al pobre perro. El animal, dicen, quedó entre la vida y la muerte. Entrando la noche, al día siguiente, el hombre se acercó al perro para darle unas tortillas. Pero el perro no podía comer por los golpes que había sufrido.
De repente, dicen que el perro le habló a su dueño, diciéndole, "Mi dueño, yo me voy a morir. Ya no puedo comer por los golpes que me diste. No tengo la culpa. Por la noche cuando ladro y ladro, es porque algo estoy viendo. No puedo dormir porque se me aparecen un hombre y una mujer. Los dos son viejos. Ellos son los que no me dejan dormir," le dijo el perro a su dueño. Además le dijo, "No tuviste perdón por mí, ahora me muero."
Dicen que el dueño cayó al suelo del miedo, sin decir ni una sola palabra, poque el pero le había hablado. Él temblaba del miedo y ya no podía levantarse. El perro se levantó y le dijo a su dueño, "Ahora te quedas en mi lugar y te darás cuenta de todo lo que pasa por las noches." Con una de sus patas, el canino agarró a su dueño y le sobó los ojos, y le dijo que él sería el hombre chucho. En ese momento el perro murío.
Cuando el hombre recobró el ánimo, poco a poco se levantó y se fue a contarle a su familia todo lo que había sucedido con él. Pero todo lo miraba extraño. A su mujer, dicen que la miraba como una sobra [fantasma]. Su cama la veía como a un canasto donde duermen los perros.
A la hora de dormir, dicen que el hombre ya no podía hacerlo como dormimos nosotras las personas. Se echó en la cama como se acuestan los chuchos, y ya no quería dormir con su mujer. Cada ratito se levantaba de la cama y salía de la casa. Cuando los perros de los vecinos ladraban, también el hombre chucho salía de la casa corriendo. A veces se quedaba en el corredor como lo hacen los chuchos.
Una noche, cuando los perros de la vecindad comenzaron a ladrar, dicen que también el hombre perro salió corriendo para ver lo que estaba pasando. Porque sus cejas y pestañas ya parecían como las del chucho, dicen que el hombre ya podía ver lo que los chuchos miraban por los noches.
Pues, dicen que el hombre perro pasó debajo de un duraznal y de reprente apareció una pareja de viejitos, un hombre y una mujer. Ambos hablaban, diciendo, "El sitio está muy sucio y tiene mucha basura." Así comenzaron a barrer el sitio hasta la medianoche. Era el espíritu de los que fueron dueños del sitio. El hombre chucho estaba viendo todas estas cosas; eso es, lo que los perros miran cuando ladran por las noches.
Cuando los viejitos terminaron de barrer el sitio, se hablaron entre ellos, diciendo, "Pasado mañana volveremos a barrer nuestro sitio otra vez. Ahora vamos al otro sitio. Debe estar muy sucio. Vamaos a barrerlo."
Salieron a la calle y desaparecieron. Los perros, comenzaron a ladrar más y más. El hombre perro, dicen que él también quería ladrar pero no podía [hacerlo] como [lo] hacen los perros. Llorando, se fue para adentro a despertar a su familia y contarles lo que los perros miran por las noches.
Este señor razonaba como hombre pero por las noches miraba como animal, porque le contó a su familia lo que miraba por las noches cuando ladraban los perros. Pero el hombre ya no era normal. Poco a poco adelgazó porque ya no comía como comemos nosotros, ni dormía por las noches.
Esto le pasó por pegarle a un perro que estaba cuidando la casa hasta que se murió. Entonces, cuando los perros ladran mucho, algo extraño están viendo. Hay que tener cuidado. No hay que salir de la cas ni pegarle a los perros, para que no vaya a suceder lo que le pasó al hombre chucho.
1. En esta y otras historias, los cuentistas mayas típicamente adornan el texto con expresiones de auto-exoneración tales como "dicen" o "se dice"; estas ayudan a que la veracidad del cuentista no sea cuestionada (Shaw 1971:10-11). Como lo indica Allan F. Burns (1983:27) para los cuentos de los mayas yucatecos, estas construciones también le dan a conocer al oyente o lector que las narrativas impartidas forman parte de la tradición oral en lugar de ser anécdotas personales.
Para versiones diferentes de un cuento maya yucateco en el cual una perra le canta al bebé de su ama mientras lo cuida, véase Margaret Park Redfield (1937:24) y Mary H. Preuss (2005:17). En la versión de Redfield, la perra es una hembra malhablada que se resiente por la negligencia de su ama, pero en la vesión de Preuss el perro es un varón obediente que provoca que la mujer deje caer su jarro de agua y forme un lago encantado.
_____
Cuento de Santiago Cuc, kaqchikel de Sololá, de setenta y nueve años de edad. Es suegro de la hija de Pedro Cholotío Temó, la cual es maestra. Don Santiago le contó el cuento a Pedro, quien lo escrebió en español y me lo mandó por correo (a Sexton) en el año 2000.
---
Order The Dog Who Spoke and More Mayan Folktales from Amazon.com or University of Oklahoma Press or Barnes and Noble
---