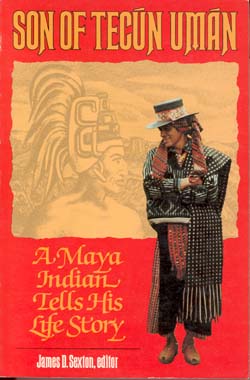 Son of Tecún Umán
Originally Published: Tucson The University of Arizona Press
Second Edition: Waveland Press, Inc.
Prospectus Heights, Illinois
---
From the backs of the first two printings:
Abandoned at birth in an isolated, agrarian town on the shore of Lake Atitlán, Guatemala, Ignacio Bizarro Ujpán comes of age early. He shares with us his labors and his loves, and we see how his life--like that of his peers, evolves into a daily struggle to support a family. Through political intrigues of village life, calamitous effects of earthquakes, and even the monotony of living from which he escapes into alcohol, we share the private thoughts of a man who still maintains pride in being a Maya--a "son of Tecún Umán."
It was anthropologist James Sexton who convinced Ignacio that he should commit his story to paper. Through his autobiography and diary, we learn what it is like to grow up amid poverty and illiteracy even while the vagaries of the twentieth century rage all around.
"Bizarro's is a story told with little rancor, great simplicity, and heartfelt sincerity. It rings with truth and deserves to be ranked among the great cultural documents of our time."
--Bernard L. Fontana
"Son of Tecún Umán" is an excellent autobiography of a Mayan Indian. It is a personal view from the underclass of Guatemala and should be useful for understanding the place of the partially assimilated Indian throughout Latin America today. As an autobiography it will acquaint readers with the culture through the observations of one who lived it. For those interested in learning about the ways of others it will be simply enjoyable as well as informative reading."
--Choice
---
Excerpted from Son of Tecún Umán: A Maya Indian Tells His Life Story, translated and edited by James D. Sexton. Copyright © 1981, 1990. All rights reserved.
Felipe Fights with a Shaman: A Dire Prophesy
On August 8, 1970, the secretary of San José, Señor Florencio Mogollón Telle, who is a Ladino compadre [ritual co-parent] of my son José, was preparing to move away from San José to another town. He had not been getting along with the alcalde [mayor], and he decided to leave. My friend Felipe, who had lost an eye, and I went to say good-bye to the secretary, who was also Felipe's padrino [godfather].
When we arrived at Señor Florencio's house, several friends of his had gathered and were drinking tragos at his farewell party. Because it was his last night in San José, we drank a lot of aguardiente.
When we ran out of liquor, Felipe and I went to a nearby bar to buy more. As we entered the bar, we noticed a shaman named Agustín Sumosa from San Benito la Laguna. He was with two Joseños, Candelaria Coché Mendez and Carlos Bizarro Yojcom. Without doubt they were buying aguardiente for ceremonies.
Felipe began to argue with the shaman. I don't really know why or how it started. Perhaps Felipe was harboring disillusionment with all shamans since he had lost an eye despite the ceremony performed by Señor Gregorio Sánchez Tuc for protection of all of us dancers during the fiesta of San Juan. In any case, Felipe and the shaman from San Benito began to fight violently. One of Felipe's blows broke the collarbone of the poor shaman, and he cried out in pain. He had reason to cry because the blow was a severe one. The two Joseños for whom he was going to perform a ceremony of some kind began to cry too, since they pitied their hapless friend.
Señor Agustín, the injured shaman, groaned to his enemy Felipe:
Today you struck me for the first time, but you will never strike me again because it is certain that you are going to die. To the justice of the peace of San José, I will not go. Instead, I am going to take my case to El Dueño del Mundo [God of the World]. For sure you are going to die [because I am going to perform a ceremony that will put a death curse on you].
These words the shaman uttered to Felipe. Although inebriated, we were somewhat surprised at his prophesy, but we both doubted the power of sorcerers after our experiences in the Cujil Cavern.
Señor Augustín Sumosa remained bedridden for eight days in the house of Carlos Yojcom. Other friends from San José came to visit with this man, and they performed healing ceremonies to help him recover. They protected him and gave him a lot of food and tragos.
---
Order Son of Tecún Umán from Barnes and Noble or AddALL or Amazon.com
---