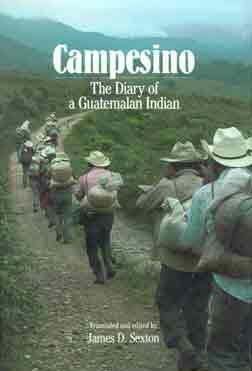 Campesino: The Diary of a Guatemalan Indian
The University of Arizona Press
Tucson
---
From the back:
"The diary fills a large and obvious gap in the literature on Guatemala, and, as a matter of fact, on Central America. Although several scholars have published Guatemalan life histories, not a single one of them can match the range, detail and length of the diary, not to mention its earlier companion volume, Son of Tecún Umán. Together, these two will provide us with the most comprehensive life history available for all of Central America."
--Norman B. Schwartz
Son of Tecún Umán (University of Arizona Press, 1981) recorded Ignacio's life to 1977 and was hailed as "a personal view from the underclass of Guatemala...useful for understanding the place of the partially assimilated Indian throughout Latin America today" (Choice).
"The reader feels that he has indeed got inside the author's culture, with its violence, injustices, hopes, frustrations, and the grim, never-ending struggle for survival" (Latin America in Books).
---
Excerpted from Campesino: The Diary of a Guatemalan Indian, translated and edited by James D. Sexton. Copyright © 1985. All rights reserved.
Señora María Luisa Is Murdered
18--19 August 1981
This episode is a combination of what Ignacio wrote and I taped.
In the afternoon they summoned me to the parochial assembly hall to find out whether to name me head of the brotherhood María de Concepción. Since I had talked to my wife, I told the directors of Catholic Action that I would accept.
At 7:00 p.m. they called me for a training session in the cooperative on behalf of the technicians of INACOP (Instituto Nacional de Cooperativas). We were very pleased. We stayed in the cooperative arranging one thing or another, and the time went by. We took a girl who is on the board of the cooperative to her house to prepare us a little coffee because we were hungry and thirsty. Then another man went with the woman to bring the coffee, and at 11:00 p.m. we ate two pieces of bread each with coffee. We paid about 25 centavos each--five for each piece of bread and more for two small glasses of coffee. We waited until about 11:30 p.m.
I said, "Let's hurry up and go because it is late. Soldiers or guerrillas could come. We are late! Let's go, let's go!" And each person left for his house. Then I accompanied the treasurer through the center of the town to his house for safety, because he was carrying money that belonged to the cooperative. After seeing my companion home, I went directly to my house.
When I arrived home, my family was already asleep. It was certain that the two pieces of bread had not satisfied my hunger, but since it was the middle of the night, my family had already eaten. Then I noticed that my señora had left me some tamalitos, good and hot and folded in three napkins. She had also left fish. I said, "Ah, I'm still going to eat." I went to the fire where there was hot coffee, and I began to eat.
Suddenly someone knocked three times. "Púchica!" it scared me. I quit eating and remained still. About two minutes later, thinking they had left, I began to eat again.
Again there were three knocks on my door, and a strange voice said, "Ignacio."
"But who is this?" I said to myself. "Who is saying my name? Who can it be?" Púchica, should I try to eat again?" Man, it was a scare they gave me! "Are they going to tear down my door? Who knows? Is it some bully?" But nothing happened.
After about two minutes I opened the door, and since there is a streetlight near, I could see that there was no one there, neither above nor below the street. There was just total silence. Then I shut the door and continued eating. Since I was frightened while I was eating, I had to rest a little before going to sleep to avoid indigestion. I grabbed a book and began to read a little. After about 15 to 20 minutes of reading the book, I fell fast asleep because it was late and I was very sleepy. It must have been about 12:00 midnight or 12:15 when I fell asleep.
What ended my sleep was the bang of arms. I heard the noise of the machine gun--ta, ta, ta, ta, ta, ta, ta, ta, ta.
"Púchica! My God! What is happening!" I said as I was waking up. "Get up, hombre! Hombre, get up! Something is happening in the town!" But no one answered me, neither my children nor my señora. They were fast asleep. Then I heard a very loud shot, "Bong!" It was the tiro de gracia (finishing shot).
"Ah, Christ, someone died. Is it the army or the guerrillas? Which of the two groups? My God!" I said. The most I slept was about 20 minutes or a half hour. It is true that I did not have a watch, but I turned on the radio and they gave the hour, which was 12:45. I turned out the light and thought about many things. They could arrive at my house, and they could find us culpable if they saw my light on because we were late at the cooperative.
I knelt before the image of Jesucristo and put myself in the hands of God for anything that might happen. I stayed in bed, but I did not sleep.
---
Order Campesino from Barnes & Noble or AddALL or Amazon.com
---